LEGEE-668 4in1 Cleaning
Complete cleaning of smooth floors in one step - vacuuming, dry mopping, automatic water dosing and wet mopping. Powerful suction at the front of the vacuum cleaner sucks up any major dirt, hair and animal hair. The dry mop sweeps on the floor and wipes off the fine dust, two special jets dispense water onto the cleaned floor, and the other vibrating mop wipes and polishes the floor with the water that Legee-668 dispensed on the cleaned floor.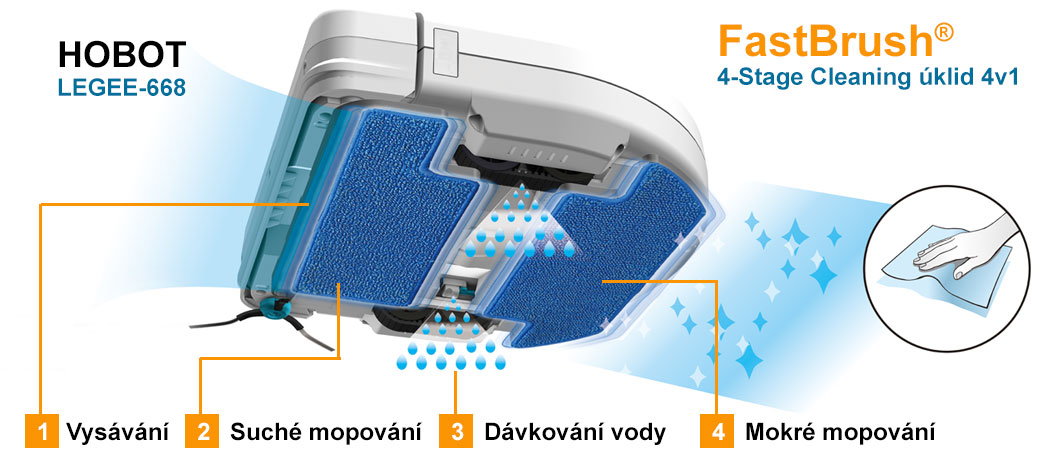 LEGEE® Smart Navigation Technology
The Hobot LEGEE 668 uses laser sensors, Encoder, Gyro, E-Compass and Position Estimation system during the work. This advanced navigation system measures the space around the robot and allows it to avoid furniture and other objects. At the same time, the robot can effectively clean the floor of your home without unnecessary delay or confusion.
The D-shape of the LEGEE-668 best for cleaning corners
The robotic vacuum cleaner and LEGEE-668 mop suck up dirt immediately along the wall and in the corner of the room, allowing a unique D-shape robot.
The side brush located in the front corner of the vacuum cleaner ensures precise dirt from corners and along walls and furniture.
Two special oscillating mops
HOBOT LEGEE-668 uses two special oscillating mops that vibrate during floor cleaning and effectively clean all kinds of smooth floors.
Smart Spray - water dosing control system
The amount of water the robot dispenses to the cleaned floor is controlled by the Smart Spray system. As a result, the amount of water dosed is ideal for all types of smooth floors.
Large dust container and HEPA filtration
Extra large 500 ml container holds much more impurities and allergens. Double filtration with HEPA filter captures maximum dirt and fine particles.
The HEPA filter helps capture fine dust, allergen mites, or animal allergens. HOBOT LEGEE-668 is also suitable for households with allergies. The HEPA filter prevents leakage of small dust particles back into the room air.
Automatic charging
When the battery is depleted, LEGEE-668 will be recharged to the charging base.
Stair Detection
The LEGEE robotic mop is equipped with sensors to prevent it from falling down the stairs.