The CleanMate QQ-6 is a robotic vacuum cleaner that actually sucks the floor. With a powerful suction and brushless system, the vacuum cleaner is suitable for cleaning all kinds of smooth floors in pet households (pet versions). This system guarantees precise cleaning and very easy maintenance . The output HEPA filter also captures fine particles of dust and allergens. Innovative ultrasonic sensors help the robotic vacuum cleaner to navigate through space and prevent collisions with furniture. The certified UV disinfectant floor lamp disinfects and removes bacteria and viruses. When the vacuum cleaner comes to power, he will come to charge himself. With a helpful cleaning planner you can choose the day and time when the robot will clean your floors. Adaptive Brushless Module with powerful suction engine and two side brushes contribute to perfect cleaning of all types of smooth floors. Unique bumper with two touch modes for touch-free or slow-motion touch.
Patented cleaning system

Innovative ultrasonic sensors

Bumper contactless or slowed touch

HEPA filter

Larger and improved bottle

Planning scheduler

Certified UV disinfection lamp

Powerful suction with brushless system

Easy maintenance (pet version)

Two side brushes

Detection of stairs

Clear touch panel

Automatic charging base

Remote control
A robot that actually sucks



The CleanMate QQ-6 is a robotic vacuum cleaner that actually sucks the floor. The new high-performance suction engine collects everything, rough dirt, pet hairs, dust, crumbs and more.
Greater and better dust container
The bigger dustbin holds more dirt and is easily accessible. It is simply emptied by simply pressing a button. A spacious and cleverly designed bottle is also suitable for pet owners.
The HEPA filter does not release allergens or dust
The HEPA filter helps capture fine dust, allergenic mites, or animal allergens. The CleanMate QQ-6 is also suitable for an allergic household. The HEPA filter prevents leakage of small dust particles back into the air.
Innovative ultrasonic sensors
Ultrasound sensors track objects and furniture in front of the robot. Sensors protect your furniture and assist in navigating the robot in space. The robot bumper can be set and used in either touch-free or slow-motion mode.
Adaptive module with brushless system
Adaptive suction module with brushless system clings to the floor during cleaning and ensures precise cleaning of all kinds of smooth floors in the household not only with pets (pet version). This system ensures precise cleaning and easy maintenance. Thanks to its height of 8 cm, the CleanMate vacuum cleaner will get under most furniture such as beds, cupboards and kitchen cabinets.
When his energy reaches, he comes to charge himself
The CleanMate QQ-6 robotic vacuum cleaner will be charged to the charging base when the battery is running low or after cleaning. Charging the robotic vacuum cleaner takes place very fast, just 2.5 hours.
STOP bacteria and allergens
CleanMate robotic cleaners feature a special UV disinfection lamp certified by Charles University. The UV lamp disinfects the floor and removes bacteria and allergens from the floor.
Compact dimensions of the vacuum cleaner
Τhe height of just 8 cm ensures trouble-free cleaning under the furniture.
Detection of stairs
The vacuum cleaner is equipped with sensors to prevent falling off the stairs.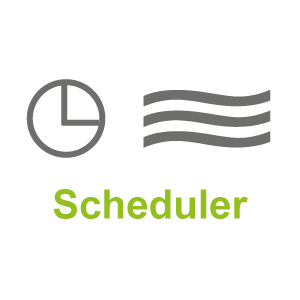 Weekly planner for cleaning
Υou can choose the day and time you want the CleanMate QQ-6 to start cleaning.
Pet version
Adaptive brushless system, easy to maintain, suitable for pets with pets.