Raycop RS PRO UV + antibacterial vacuum cleaner
The first hand-held antibacterial vacuum cleaner with double disinfection of mattresses and bedding. Raycop RS PRO removes allergens, bacteria, viruses and mites using a UV + disinfection lamp and hot dry air Steamless Heat.
Advantages of the Raycop RS PRO UV + vacuum cleaner
        

UVC disinfection lamp

        

Dry hot air sterilization 60 ° C

        

UltraPulse pulse brush

        

PureAir HEPA filtration

        

Removes allergens, mites, bacteria and viruses

        

Vacuum cleaner designed by a doctor

        

Washable dust container

        

Safety sensors

        

Air Redirect prevents textiles from being sucked in

        

Simple one-button operation

        

Suitable vacuum cleaner for allergy and asthma sufferers

        

Reduces the risk of allergic diseases

        

Cleaning chemically
Specialist for clean and healthy sleep
Raycop RS PRO is a specialist who brings you healthy sleep and helps prevent allergies . Raycop removes mites and their feces, including secreted enzymes, bacteria, viruses and fungi. All of these allergens can lead to a variety of allergic and chronic diseases such as asthma, allergies, chronic rhinitis, various types of eczema and skin diseases.
Removes allergens, bacteria, viruses and mites
The Raycop RS PRO antibacterial vacuum cleaner simply removes allergens, bacteria, viruses and mites from mattresses , bedding and other household textiles. Household dust, mites and their faeces are removed with a patented cleaning system that uses a UVC medical sterilization lamp, dry hot air sterilization, a special pulse brush and powerful suction with perfect HEPA filtration PureAir.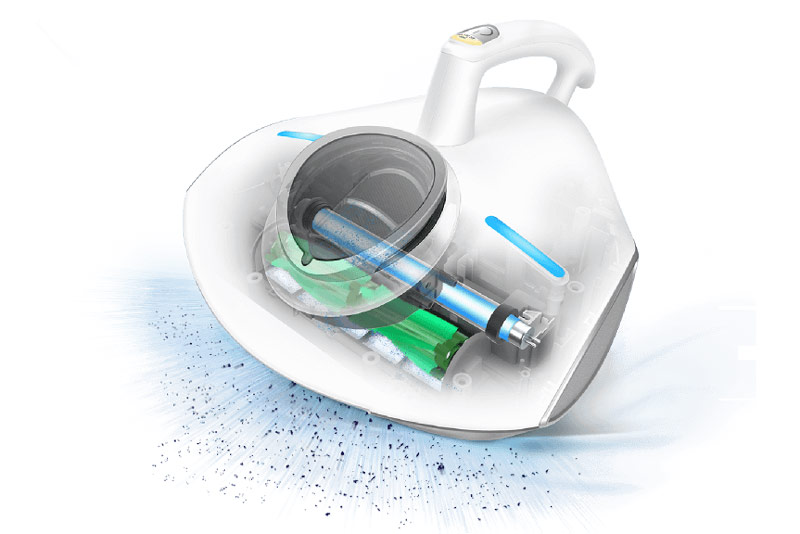 RayClean UV + removes 99.9% of viruses and bacteria
Unlike conventional vacuum cleaners, Raycop RS PRO uses a UVC germicidal lamp with a wavelength of 253.7 nm, which is also commonly used in the medical environment. The UVC lamp reduces the ability of mites to reproduce and ensures its quick removal. Ultraviolet light only takes a few seconds to remove and inactivate viruses. A conventional vacuum cleaner without a UVC lamp will not ensure the removal of mites and bacteria with such high efficiency.
Dry hot air sterilization 60 ° C
In addition, Raycop RS PRO uses, as the first vacuum cleaner, a special dry hot air sterilization , which dries mattresses and bedding with hot dry air at a temperature of 60 ° C and helps to deeper sterilize bedding and textiles. There is a rapid reduction in moisture in mattresses and bedding, making the environment of mattresses and bedding unsuitable for mites and removing 99% of mites.
UltraPulse pulse brush
Our newly developed UltraPulse pulse brush performs at least 30,000 strokes per minute. These vibrations release allergens trapped in textiles and mattresses, and Raycop RS PRO then easily sucks everything into a container, away from your mattresses and bedding.
PureAir HEPA filtration
There is no finer filtration than PureAir HEPA. Dust, mites, bacteria, viruses have no chance against PureAir HEPA filtration. The three-layer filtration captures 99.97% of common allergens and is very easy to clean and maintain by a simple wash under running water.
Allergens are locked inside the container
Conventional vacuum cleaners can discharge dust particles back into the room air due to leaks throughout the unit. Raycop vacuum cleaners are designed with an above-standard tightness of the unit , which we call the Allergen Lock, and which keeps allergens inside the container and does not blow them back into the room air.
Air Redirect technology
Air Redirect technology ensures a constant flow of air and prevents fabrics from being sucked into the vacuum cleaner. 
One-button control of the vacuum cleaner
Raycop RS PRO is started with one button and all vacuum cleaner functions are activated immediately.
Why use a Raycop RS PRO vacuum cleaner
We spend about a third of our lives in bed, which is much more time than anywhere else in the household, and it's unbelievable that it's the place we clean the least. Every night we share a bed with 2 million dangerous mites and bacteria attacking us while we draw strength for the next day. Raycop UVC vacuum cleaner with scientifically proven effects reduces the risk of allergic diseases.