Hobot 298 - Glass cleaner robot
 
HOBOT 298 is a robotic window cleaner with an automatic water spray and a built-in window detergent dispenser. The HOBOT 298 robotic window cleaner is the first and only in the world to be equipped with a patented ultrasonic water sprayer, which creates a 15 micrometer thick mist, contributing to even more efficient and perfect window cleaning. HOBOT 298 quickly and precisely cleans windows and various types of glass surfaces using special microfiber cloths. The robot moves linearly and cleaning takes place automatically in two directions. Thanks to the Single-side system, you can use the HOBOT 298 on various thicknesses of glass, mirrors, windows, shower enclosures and more. HOBOT 298 is equipped with a GYRO sensor, laser sensors and a navigation system with AI-Technology S2.1, which control the robot's movement.
Do you have any questions?
Advantages of the HOBOT 298 robotic window cleaner
Ultrasonic water sprayer

Detergent dispenser

AI-technology S2.1

Gyro and laser sensors

Linear cleaning

For any glass thickness

UPS backup battery

It also cleans frameless windows

Window frame detection

Cleaning speed 2.4 min./m2

It works in a vertical position

Remote control

Smartphone control
Automatic ultrasonic water sprayer
HOBOT-298 provides an innovative solution for automatic spraying of water or detergent on the surface of windows. The ultrasonic water sprayer automatically creates a 15 micrometer thick mist similar to human air exhalation, which dissolves dust and perfectly cleans window windows with microfiber cloths. The amount of water sprayed is precisely controlled by the robot software.
Built-in detergent dispenser
The HOBOT-298 robotic window cleaner has a built-in HOBOT detergent dispenser. The ultrasonic nozzle works very well with HOBOT detergent or distilled water. The ultrasonic nozzle saves water or detergent consumption, as it consumes only 1cc of water per 1 m2.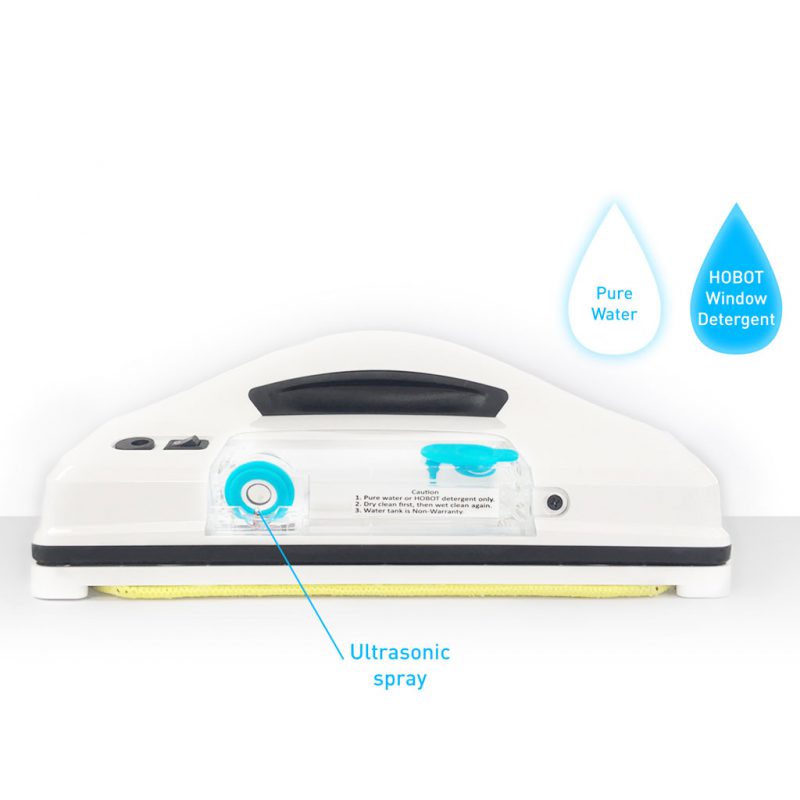 Intelligent effortless window and glass cleaning
HOBOT 298 uses a unique system of linear motion, in which the glass is precisely cleaned. The patented surface movement system is provided by a powerful suction motor and a large microfiber cloth. HOBOT-298 cleans the surface in two stages, first horizontally, and then vertically, thus achieving a perfect cleaning of the surface. The cleaning speed is 2.4 min./1 m2.
AI-Technology S2.1 and laser sensors
HOBOT 298 is equipped with a GYRO sensor, laser sensors and a navigation system with AI-Technology S2.1, which control the movement of the robot on the cleaned surface similar to an autopilot. Thanks to laser sensors, it also cleans frameless windows and mirrors without any problems.
Smartphone control
The Hobot-298 robotic window cleaner can be controlled via a smartphone via Bluetooth. You can easily download the control application for free on the App store or Google Play. You can also control the robot with the remote control included in the package.
You can activate the double cleaning cycle function on the HOBOT 298 using the remote control or mobile smartphone.
Removable tray
In case the clogged ultrasonic nozzle needs to be replaced, you simply replace the entire water tank module with one screw and HOBOT will work like new again.
The size of the container for distilled water or HOBOT cleanser is 40 ml. Use only distilled water or an original HOBOT brand cleaner.
Single-Side-Cleaning versatile system
The special Single-Side-Cleaning system ensures the cleaning of glass of any thickness and various types of glass surfaces. HOBOT 298 offers universal use for cleaning not only windows, but also mirrors, glass door panels, shower enclosures and more. A microfiber cleaning cloth measuring 24 × 24 cm is attached to the robot. The HOBOT 298 robotic cleaner uses special microfiber cloths that are easy to wash and reuse for further window cleaning.
Adapts to the cleaned surface
The HOBOT 298 robotic window cleaner uses an adaptive soft microfiber cloth holder that adapts to the surface on which the robot moves when cleaning. HOBOT-298 thus moves reliably and smoothly on the glass.
Long power cord and built-in UPS system
The power cord is 4 meters long, which allows the HOBOT to work on a large area or even when the power outlet is far from the window. You can use the built-in UPS backup battery in the event of a sudden power failure. Other safety features are several sensors that constantly evaluate the situation and the safety cable.
Customers who bought this product also bought: