RECYCLING OF WATER FILTERS
As Exclusive WaterCare dealers, we are proud to announce the launch of the WaterCare Recycling Program.
Based on our core philosophy of providing the most environmentally friendly water treatment products available on the market today, it was a natural decision to go for it and develop a new sector dedicated to the recycling and reuse of ALL water filters.
As such, we are now able to recycle and reuse ALL types of plastic and aluminum water filters using our newly operational recycling facility at our headquarters in Harlow, Essex, England. We can also regenerate the expired resin from these water filters to be used in the future manufacture of new water filters.
WE RECYCLE ALL MAJOR BRANDS OF WATER FILTER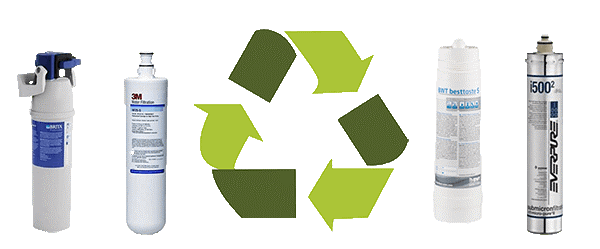 * Free collection depends on location and volume. Contact us for more details and to discuss your requirements through our contact form.
THE 3 STAGES OF THE RECYCLING PROCESS